KICKBOXING
Non-combative Kickboxing Training
FITNESS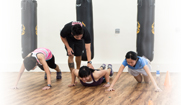 Choose from our broad list of fitness programs.
NUTRITION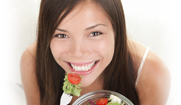 Change your lifestyle today with better eating patterns.
SPORTS TREATMENT
Active Red – Fitness Training with a difference!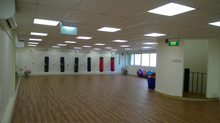 Active Red aims to inject a fresh new approach to Fitness Training by introducing non-combative Kickboxing Training to Singapore. We are the Singapore Representative for WAKO Kickboxing, as well as a host Kickboxing Fitness Trainer education centre for internationally accredited WAKO Kickboxing education.

Together with nutritional guidance and chiropractic care, we want you to experience the fulfilling benefits of a holistic lifestyle regimen.
---
Active Kickboxing
Active Kickboxing Fitness

Our flagship Kickboxing Fitness Class is designed to help you lose weight, improve your cardiovascular fitness, tone your muscles and build strength.

Read more…
---
Active Kickboxing Boot Camp
(Only the WOMEN get it!)


This is a total body workout, just for women. Our Active Kickboxing Boot Camp classes are mixed with fun Active Kickboxing Fitness sessions plus exercises integrated with over 500 varieties of circuit training.

Read more…
---
Personal Training


Specially tailored for individuals who prefer a personalised Kickboxing workout programme,

Read more…
---
WAKO
The World Association of Kickboxing Organisations (W.A.K.O or just WAKO) is one the international organization of kickboxing, and the governing body of Amateur kickboxing sport certified by SportAccord.

Find out more...

Be a certified Kickboxing Fitness Trainer
Kickboxing at Active Red is a highly integrated, scientific exercise system. Inject a fresh new routine to clients' training regime today.
Find out how...